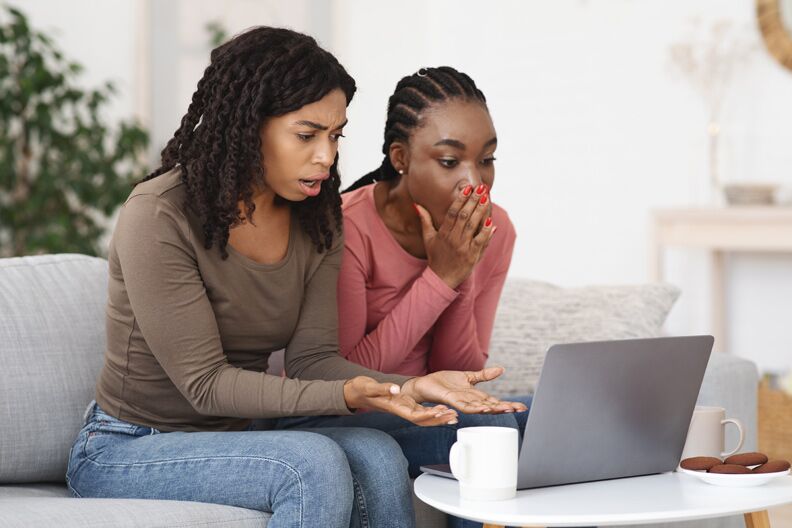 By reading this Post, you will learn how to avoid common mistakes that could ruin your website redesign.
With Proof, you will become confident knowing exactly what to do for every step of the process.
By the end, you will have a beautifully designed website that won't damage your SEO, pleases visitors, and sets your business up for success!
The time to start is now….
Let's go!
#1 Not fully backing up your old site
The first and most important step you must take before redesigning your website is creating a backup!
A few months down the line, you might be working on a new sales page or post and then realize that you had the perfect line or story for it on one of your old pages.
Oh no! You try to access your pages only to realize that you accidentally deleted them.
By fully backing up your website, you can avoid any potential disasters and always have the option to restore any lost information.
This means:
Back up all website files and databases on your hosting account (including partial backups if you use cPanel Backup Wizard).
Use a free web browser extension, like FireShot, to screenshot your pages and get an exact replica of how they looked in the past.
Although it may be tedious, copying and pasting text from your essential pages to a Word or Pages document is crucial, as some themes and page builders are built with shortcode or things that look like this: [eb_section][row][div class="section1"].
After you make the switch to a better page builder like Elementor, your pages turn into an incomprehensible mess!
If you've ever needed to grab text from a document or website and found it difficult, you know how useful this tool can be.
#2 Forgetting theme specific inserts
Choosing a new theme can be daunting, especially if you've had your current one for ages! It's easy to get excited about getting a new look and forget all the things you might have added or edited on your old theme. That's why it's time to do a littletheme huntin'!
Once you locate it, go through the entirety methodically to seek out any customizations or inscriptions you.
This includes copying onto another document your:
Google Analytics tracking code
Facebook Pixel code
Other tracking codes or scripts (i.e. code starting with <script>)
Font names
Color hex codes (ex. #F7F7F7)
Custom CSS
Product or License Key
Anything else you'd like to save
If you don't save this information, it'll take time to research it all again later. You would also lose temporary tracking data in the switchover (this is especially important if you're running Facebook Ads). So, it's best to grab all the info now so that you won't have to worry about losing anything in the future!
#3 Not Checking Previous Analytics, Current Web Design, And Feedbacks
Peers' opinions and feelings are not the exclusive determinators of whether your website needs a redesign–check your analytics. Even if you have an ideal image for your new website, by analyzing data from your current design will help answer any lingering questions about why a change is necessary.
Before you redesign your website, make sure to get feedback and analyze the current design. This will help ensure that your budget is used efficiently and that your income goals are met.
Create a comprehensive list of your website's outdated features, functional technologies, and missing elements. Once you have done so, research more modern and efficient website builders that can accommodate all the changes you wish to make. Remember to back up your data before making any big changes!
Other important metrics you should track include:
-The number of visits per page
-How long a visitor spends on each page
-The path a visitor takes through your website
-The bounce rate for each page.
Google Analytics is a free tool that will help you understand your website's strengths and weaknesses, as well as track visitor behavior. If you haven't started using it yet, now is the time!
Having measurable data in place allows you to see more easily what needs to be adjusted and which pages should take priority.
You can also use a heat map, which will show you where people engage most on your web page. This helps you understand what part of your design recently worked well and what areas you should keep similar going forward.
Lastly, always factor feedback into your decision. Before you hire anyone to revamp your website, ask a few designers for their professional analysis of the site and what they would change. This way, not only will you get expert feedback, but you'll also be able to choose the person with the best vision for your project.
#4 Not Testing Enough
Before you redesign your website, it will be helpful to do the following tests in addition to checking your analytics:
Functionality
Testing third-party integrations
Setting up 301 redirects
Cross-browser testing in the computer, tablet, and mobile phone
Checking for on-page SEO
Grammar and spelling check
Load speed check
Don't just take our word for it–testing is essential to gauge which aspects of your website are flourishing so that you can keep them as part of the revamp. But pre- and post-launch testing doesn't stop there!
This extensive testing process will ensure lapses will be taken care off so no blunders will arise and is bug-free once the website is fully operational.
Additionally, you'll be avoiding the risk of applying the same outdated logic and structure from your previous design. Many testers this has been a common blunder for revamping websites.
#5 Not Setting Scalable Goals
Now that you have the data from analytics and testing, you can see why your website needs a redesign. This data will help you identify gameplay loopholes and what specifically needs to be changed on the website. For example, if you operate an eCommerce site like Mannequin Mall or 3Wishes (a costume store), during analysis and testing you may notice a significant drop in traffic from the add-to-cart page to the purchase page. With this information in hand, we can now successfully address these issues and move forward with confidence knowing exactly what resources we need for our redesign project.
The abandoned carts and conversions goal can be seen from here. If you have a review website like Medical Alert Buyers Guide, then analyzing the navigation problem will set a clear goal of making each page easier to navigate by reducing visual clutter.
If you set goals before starting a redesign project, it will help establish the right perspective. You will also be able to use these metrics later on down the road to determine if the project was successful. Without having measurable objectives, it becomes difficult to manage elements such as workforce, budget and vital integrations. Inconsistency in direction often leads projects off course which wastes time and valuable resources.
#6 Prioritizing Aesthetics Over Functionality
A website redesign isn't just to improve your website's look. If visitors have a terrible user experience, they'll leave and never come back. You need sales and ROI for your investment in the redesign, which you won't get this way.
My main point is that functionality should be the top priority, with visual appeal coming in second.
Not only should your website's new design look good, but it also has to function better. User-friendly navigation is key, and any additional pages should be supplementary content rather than primary standalone pages. If you don't take these measures, you'll see a dip in your website's conversion rate.
#7 Slow Page Load Times
A slow website is the kiss of death for any business looking to succeed online. Google has reported that 53% of mobile users will leave a page if it takes longer than 3 seconds to load.
A slow web page load time will drag down your search engine rankings. If you're not a tech expert, don't worry – this problem can be easily fixed by working with your website developer to find ways of increasing your current page load time. Make sure that you also have a quick load time for any new website designs.
#8 Indecisive On What Technology Or Integrations To Use
If you're a SaaS business for Amazon sellers like Aura, then your website needs to offer outstanding customer support via a live chat feature. If you offer an innovative product for a classic hobby like Gili Sports, you'll need to integrate a review page to verify your product's quality and trustworthiness. Personalized product websites like Mixam need integrations that make it easy for customers share their design references.
Research which integrations will make it easier for your website visitors to convert, so you don't waste money on technology that appears luxurious but doesn't actually help your website.
Furthermore, if you take the time to do extra research on integrations, you'll be saving money by avoiding having to redesign your website as often.
If this is something you need help with, I've got a free worksheet that will come in handy. It outlines everything you'll need for a successful website revamp.
#9 Building your new site in the wrong place
If you're anything like me, after you make the decision to redesign your website, then it's immediately followed by the question of HOW. It's a fair dilemma because if done incorrectly, all of the SEO progress made could be lost. You wouldn't want Google searching your site and indexing an incomplete version…or coming across duplicate content.
Without disrupting your original website, how can you create a new one?
Below are a few options–which one do you choose after reading the descriptions?
Staging site
Subdomain
Local site
Current site
01 | STAGING SITE
If you aren't sure whether your webhost provides "website staging", don't worry, I'm here to explain it. Website staging is where you can construct or clone your site and experiment with it without any changes appearing on your live page. Most hosts make the process easy to set up, but if you need help, simply ask them for assistance. Just be careful not to accidentally overwrite your original website- unless of course that's what you want!
02 | SUBDOMAIN
The next best option if you don't have website staging but have the option for free subdomains is to create a subdomain. This allows you to then install a fresh copy of WordPress or clone your website to this subdomain and customize it as much as you want.
Once you're done and want to launch it, use a page builder plugin to export your pages and import them into your new site. You can also employ an Import Plugin for this task; however, any changes made in the meantime to your old site will be lost as the plugin overrides and replaces the old data with new information.
03 | LOCAL SITE
If you want, you can actually build your WordPress site offline, and then later export it using an import/export plugin or page builder. You'll need some software to install first, but other than that it's exactly like the regular WordPress (just not connected to the internet).
04 | CURRENT SITE
It's a little more tricky to build on your current website. It all varies based on the modifications you want to make.
For example, are you planning on changing themes?
Or do you want to keep using the same page builder but with different fonts and colors?
Every time you create a new page, take care to ensure that it doesn't reflect the old branding or layouts. You may have to use special code specifically for individual pages, or be mindful of choosing different options.
#10 Not Calculating And Setting An Overall Budget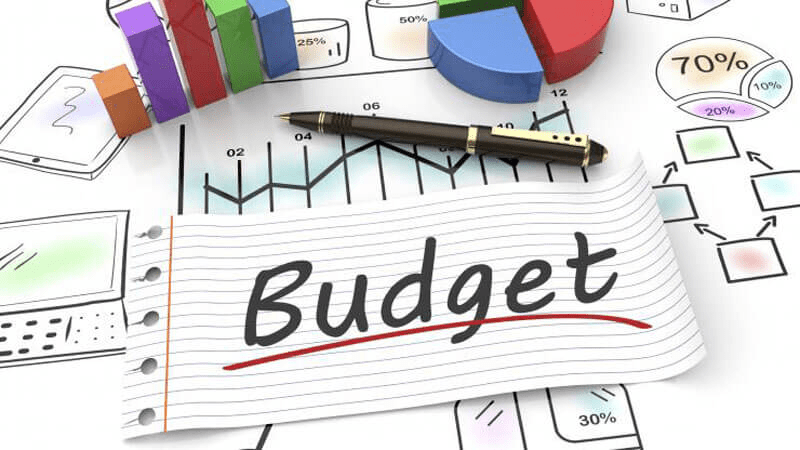 If you wait to budget for your website redesign until it is time to pay for the Crossing the Bridge When You Get There, you likely won't have enough money. This method will leave you funds and without a finished website. If it has been years since your original website debuted, the likelihood that your current budget can cover the expenses of an entire revamp are slim.
Websites are becoming increasingly complex, which means that web designer fees have gone up. Additionally, many website features and plugins now require an additional fee for added functionality. This is why it's important to carefully consider which technology and integrations to use before beginning a project- it will save you time and money in the long run. Once you've determined what you need, setting a timeframe for the project will help solidify the budget. Without this commitment, the process can drag on longer than expected and quickly become very costly.
#11 Not taking care of your clients during the redesign
If you're redesigning your website, it's important that your customers know they've come to the right place; otherwise, they might think you moved or closed down completely. Most first-time visitors who come to your site during a redesign never return–even if you let them know what's going on. You can't stop working on your website just because the redesign is complete. You have to let visitors know that you're always trying to improve their experience by making changes and adding new things. This is how you'll show them that you care.
#12 Not Providing Adequate Time to Website Designers
Although it takes time to upgrade a website, you shouldn't need an excessive amount of patience. Set deadlines so the work can be completed in a timely manner, but don't make the goals unattainable.
There are many complications to take into account when redesigning your website, but the most difficult thing can be simply finding the time. Many people outsource their website design needs, but doing so with predefined templates often takes just as much time as starting from scratch.
#13 Hiring the Wrong Team for Website Redesign
When redesigning your website, it is crucial that you partner up with a trustworthy and experienced website design company. Your website is the most important marketing tool for your online business, so entrusting it to someone who knows what they're doing is essential.
You need to avoid partnering with someone who has no technical or design skills. Your partner should feel confident in their marketing ability and have a strong understanding of the industry you're entering; otherwise, it could be a negative experience.
#14 Making The Web Design Complicated
Too many integrations on a website redesign can actually hinder the user experience, so it's important to find a balance. The latest trend in web design is simplicity – this means not having too much visual clutter that could distract the user from what you want them to focus on most.
Too much information on a website's homepage can overwhelm and distract visitors, causing them to leave immediately. To avoid this, take care not to put too much information on the front page, especially above the fold where users will see it first. You only have a second or so to convince visitors that your website is worth exploring. A great example of this is the current redesign made by Everytale, a video streaming platform.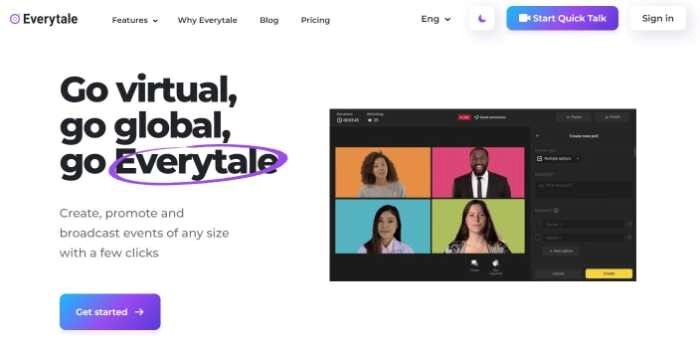 Above the fold, the homepage is eye-catching because of its video and inviting copy. Everytale does a great job with SaaS website design by keeping thingskn appealing and straightforward. By not overwhelming visitors with too much information at first glance, they are more likely to scroll down and explore everything your website has to offer.
It's always more pleasant for visitors when websites are neat and tidy. If you have a lot of content, group them into sections to make it easier for your readers to find what they're looking for. For example, Key West Aloe does an excellent job of this by segmenting their beauty products into three separate categories.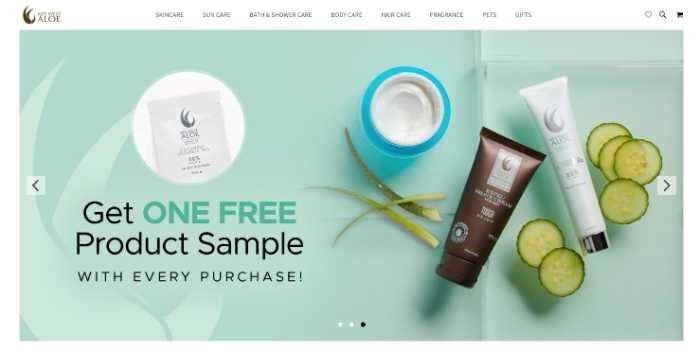 Dividers help when you have a lot of contact information, or if the space in between different segments is big enough to make it easy for people to see.
#15 Unreasonably Rushing The Project
If you're about to redesign your website for the first time, you'll need to do more than simply change a few things here and there. You'll have to perform a complete analysis of the current design, get feedback from others, plan and test various aspects, decide which integrations are necessary, and then finally put everything together. The entire process will take some time.
While some website builders allow for drag-and-drop functionality, it is important to note that these websites will not be built overnight. Just as you wouldn't trust a house that was only taking a day to build, you also should not expect your website to be perfect after only putting in minimal effort.
When you're unsure about the quality of work, it's best to consult with multiple designers. This way, you can get an accurate estimate of how long the project will take.Simply explain the scope of work and then compare their responses to get a general idea.
You can try tackling the redesign one section at a time so it's less daunting, and set deadlines for each phase to hold yourself accountable. But make sure to discuss this timeline with your web designer first, or else you might end up compromising the final product.
#16 Overlooking Making A Proper Content Strategy
A great website is only as good as its content– if not better. New and original content that contains keywords with high search volume will direct the people for whom you made the website redesign to your business.
Before you even begin to plan a website redesign, it is crucial that your website has strong and fresh content so you have an initial list of leads to improve. If you don't have these leadsthenyou won't have anyoneto test your new website and check if it's functional enough to drive more conversions.
#17 Forgetting about SEO
If you want people to find your website, it needs to rank high on search engines. Otherwise, it's like building a store in the middle of nowhere – you won't get customers. According to a report by the Search Engine Journal, around 60-70% of companies lose organic traffic after redesigning their website.
Neglecting search engine optimization when redesigning your website is a costly mistake. Your beautiful new website will only be seen by you if it's not properly optimized for search engines. Keep up with the latest SEO trends to ensure that your site is visible to your target audience. If you're working on the project yourself, consider taking an SEO training course to learn how to optimize your site effectively.
This job will require:
After your website has been redesigned, you can submit a sitemap to major search engines like Google and Bing. This allows the search engine bots to crawl, index, and rank your pages for any relevant queries.
To preserve your website's traffic, set up 301 redirects from any old URLs to your new ones. You should also keep the old URL structure if possible.
Install an SSL certificate to ensure a safer browsing experience for all visitors if you want your website to rank higher on search engines.
If you feel like working on your SEO is proving too difficult to handle, don't hesitate to outsource the task to an agency. Good SEO is essential for success in many areas of your website, including but not limited to your landing page and product pages. So if you're feeling overwhelmed, know that it's a strategy worth investing in.
#18 Not Optimizing For Lead Generation
Your website traffic means nothing if you can't turn those visitors into leads.
Your website must serve as a receptacle for people who might want to buy your product. You can only advance them further along in the buyer's journey if you have lead generation mechanisms set up.
First, you need to show that your brand is credible. Once that initial trust barrier is broken, you'll have a better chance of converting casual visitors into paying customers.
If you don't have lead generation tools to complement your content strategy, it's like releasing an arrow without aiming at the target.
If you want to hit your target, here's what you need to do:
Define your target audience
You can established yourself as an expert in your field by writing educational articles that would be useful to your target audience.
Creating a lead magnet is an effective way to collect the contact information of website visitors. When they see that you're a credible source, they'll be more likely to want to learn more from you.
By creating an email marketing sequence that builds your credibility and answers questions about your product, you can prevent potential customers from leaving without converting.
After you have collected phone numbers from interested parties, use a predictive dialer to schedule calls with them to explore their concerns and offer assistance or motivation for conversion. This integration will save you time in the long run.
You've converted them, now what? Keep the momentum going by providing content that will drive recurring revenue.
One way to offer a lead magnet is by insert it in a blog post while another, more direct method, would be offering it on the homepage. GrowthRocks, a growth hacking service utilized this strategy effectively by offering a free website health check rather than the common PDF guide most competitors provide.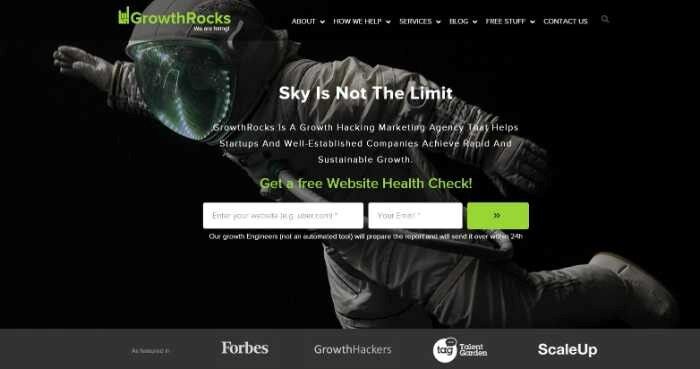 Some potential customers prefer to obtain answers directly from your team instead of searching for the answer themselves. Creating a "Contact Us" page allows leads to get in touch with you easily using their preferred method. Adding a live chat feature provides an opportunity for instant gratification and quick relief for reader's curiosity.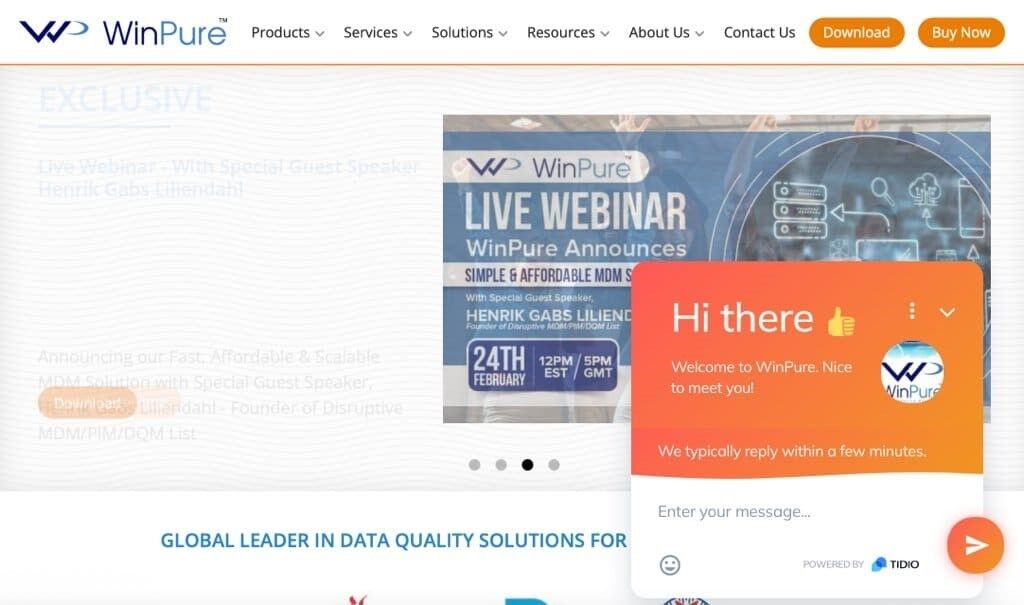 Remember to place call-to-action buttons on each of your landing, contact, and blog pages. By having these buttons, you are explicitly telling visitors what action needs to be carried out.
#19 Not Designing A Functional, Responsive, And Mobile-Optimized Website
A functional website is one that can easily be accessed no matter the browser or operating system a person is using. Even if just one person uses your site and then recommends it to someone else, you want to make sure that it can still be accessed and properly used. The best way to do this is by cross-browser testing so you can remove any potential bugs. Additionally, responsiveness is key.
In other words, If a website is slow to load or unresponsive to user input, that's generally not a great sign. Be sure to check things like file size and image quality so you're not causing your site to loading slowly for users.
Lastly, it's important to remember that 75% of internet users today choose mobile-friendly sites. And there's a good reason for this – most people search the internet using their phone rather than on desktop computers or laptops.
When you're redesigning your website, keep Mobile devices in mind and do continuous checks between different types of devices to ensure compatibility across all platforms.
#20 Bad "Coming Soon" page
While you're waiting for your website to be designed, you might put up a "Coming Soon" page on your domain.
Although this gateway is vitally important to do correctly!
Coming soon pages can be beneficial for businesses, but only if done correctly. I have seen many coming soon pages that make these errors:
01 CONTACT INFO
Always include your contact information on your website, whether that be a contact form or just links to your email, social media, etc. You don't want to miss out on sales or opportunities because potential customers can't reach you!
02 CONTENT LOCK
Once your Coming Soon page is live, you'll want to take measures to ensure that your website is secure.
I remember going to one entrepreneur's website and seeing their coming soon page. But I got curious, so I thought I'd add "/about" to the end of their URL. And sure enough, I was able to see their work-in-progress about page. So then I could browse around because I had gotten past the main gate.
Nobody wants this happening to them, as it looks unprofessional. Especially if you're still working on content and it's not perfect yet. So instead of what this person did by simply changing their Home Page to a "coming soon" page with no header or footer…
Coming Soon plugins or settings can help improve your website.
03 NOINDEX
Once you're ready to launch your website, the last thing you want is for search crawlers like Google to index your incomplete pages. This can easily be prevented by using a plugin or dedicated setting that will let you set your site to a temporary "noindex" status. That way, once you're done and take down the Coming Soon status, the search crawlers will then index your new pages as intended.
#21 Not hiding old pages
Before you redesign and build your new website, it is essential that you catalog all of your pages.
By ensuring your visitors see only your updated content, you create a better user experience and avoid any confusion.
Experiencing different versions of the same page is not uncommon when trying to design a website for a new client.
"Home Page – Old"
"Original Home"
"Home – New"
I understand that you may want to keep your older versions in case you need to go back and reference them, but there's one simple thing you should do: don't make them public.
To avoid any sensitive information being leaked, always remember toprivatize or draft old pages before creating new ones. , If you have a lot of pages, it might be helpful to create a spreadsheet documenting all of them. Include the page name, URL and status in the document (e.g., "About Us, yourdomain.com/about-us, Public").
By setting older pages to draft or private, you can make them unviewable by the public.
Once my client renames her non-current pages to start with "Z", they appear at the end of the WordPress page list. genius, right? This way, you'll know for certain that your pages are organized and visitors can only see what they're supposed to see–nothing more, nothing less.
#22 Not checking your links
If you just updated your website, it's likely that several things are different: new pages, content, services…and links! Just as in the previous mistake people make, many forget to check their site for broken links after they launch.
A broken link is one that doesn't direct you to a live, functional page. It could be because the page no longer exists or there was simply a typo.
Not a lot of people are aware of this, but I always tell my clients to scan their sites for broken links. Right after the site launches, and then once a month if the site is active. Besides being really frustrating for visitors, broken links can actually negatively impact your SEO! But don't worry, there are free tools available that can quickly scan your website and tell you which links are broken and what pages they're on.
A quick google search for "broken link checker" will give you plenty of options to choose from.
I currently use BrokenLinkCheck.com to check for broken links, but if it ever goes down (hehe!), I can just google and find a new one.
You also want to manually check each page's links too, both internal and external. Just because a link isn't flagged as broken doesn't mean it's still not accurate though. For example, many of my coaching clients rely on calendar schedulers like Acuity or Calendly. If they switch from Acuity to Calendly, their website "Apply Now" buttons need to have the new Calendly link updated accordingly.
Once you finish redesigning your website, test each link to make sure it goes to the right place.
#23 Forgetting to update non-website links
The final mistake people make when redesigning their website is not properly hiding old pages and scanning for broken links. Although this may seem like a tedious task, it's important in order to maintain a well- functioning website.
Time to take it up a notch. If you're certain you haven't changed your URLs, feel free to skip ahead. Otherwise, it's time for a quick audit and update.
A frequent mistake is to forget to update your "non-website" links as well!
Be sure to doublecheck that your website links are still valid in the following places:
Email marketing (check form thank you pages, confirmation pages, email series, etc.)
Social media profiles
Google My Business
Other websites (ex. Yelp, Alignable, BBB)
Business cards
Letterhead
If you need an old link to go to a new one, for example "/about" goes to "/about-us," you should set up 301 Redirects.
There's a plugin called that in WordPress and all you do is pop in the old one and the software tells it to go to your new URL whenever someone clicks that old link.
(Advanced users can also set up redirects without the use of a plugin by editing their .htaccess file)
After doing this, people will always land on the right page instead of being frustrated and lost.
#24 Not updating social images
A client recently emailed me asking how to select which image is displayed when sharing their website link on Facebook.
A fair question!
For those of you using an SEO plugin, in the 'social images' section of each page's SEO settings is where you'll want to choose/upload which image you want displayed on Facebook, Twitter, etc.
Not selecting anything will result in the first photo that shows up on the page being pulled — and it could end up just being a stock image from your site.
Creating a custom social media image for your SEO plugin is definitely worth it.
You can have multiple images on different pages, or a single image for all pages. After you change the settings, go to Google Facebook Sharing Debugger and scan your site (or do it a few times if it's taking awhile). Your new photo will pop up for your page- letting you know that this is what will show from now on when people share it on Facebook!
#25 Stopping all of your efforts once you've launched your website
Many individuals believe they need to redesign their website every 3 years. They don't make small content updates in between or think they can generate sales, leads, and new customers without a complete site overhaul. This is not the case. You can–and should–make changes to your existing website on a regular basis to ensure it remains fresh and appealing to visitors.
In order to take advantage of all opportunities for sales, engagement and conversions, adjust everything on a smaller level. Growth-driven design uses data that is relevant and useful to show you where your site needs improvement.
If you want your website to become a driving force for business growth, then avoid making these common mistakes during your redesign. I chose these specific mistakes because they are often the most costly and have the biggest impact.
There are other errors people make throughout the redesign process, but if you can steer clear of these primary pitfalls, then you'll be well on your way to success.
Congratulations!
Woohoo!!! You've done it!
(Or have you?? I can't see your progress — email me to let me know!)
I've fully backed up my old website (files, databases, content)
I've saved my tracking codes, fonts, color information in a safe place
I know where I'm building my new site: ___________________________
I know how to build a great Coming Soon page (if needed)
I have cataloged all the pages in my website (name, URL, status)
I have made the old pages non-public
I've scanned my website for broken links
I've double checked all my links go to the right places
I went through all my social and external places where my website shows up and corrected any links
All my important pages have SEO title tags & meta descriptions
All my important pages have a social image that has been updated with Facebook Debugger