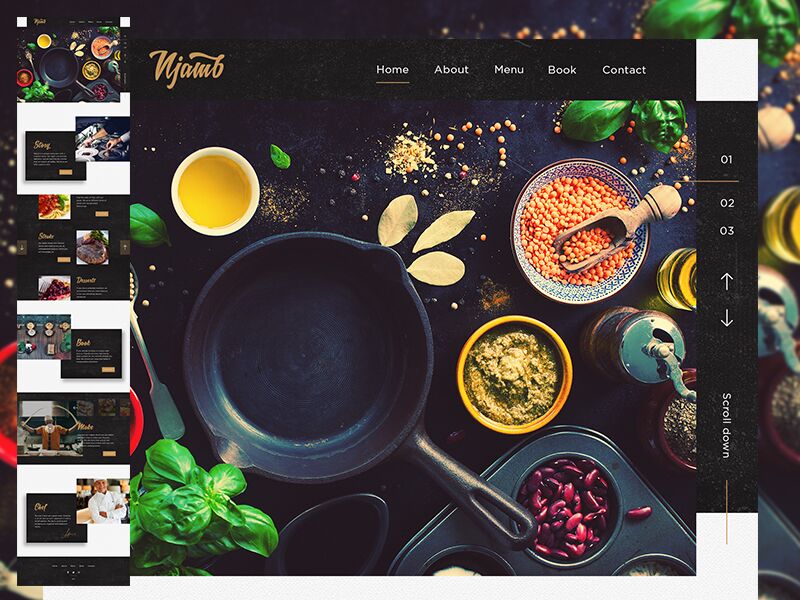 The internet is one of the best sources of information when it comes to discovering where great food lives. If you own a restaurant, you are probably one of the 95% of the restaurateurs that claims that the internet has improved your establishment's efficiency – after all, 85% of mobile users find where they would want to order food online. This says a lot about the opportunities that restaurants can tap in order to increase their revenue.
Once a restaurant's website is discovered on social media platforms or through search engine results, people are immediately transported to that restaurant's virtual door. The only thing that the restaurateur needs to do is to convince them to grab their keys and head to their establishment. How could that be done? If you want to convince people that you have everything that they are looking for, you will need to entice and feed them with information about you.
The Ingredients of Best Restaurant Websites
All great restaurant websites have the following features:
Great photography and/or quick-loading videos that serve as immediate virtual tour to potential diners
Instant access to the restaurants location, operation hours, and contact details
Easy-access and fast-loading menu.
Have brief, yet compelling copy
Links to their social media sites
Some websites also offer the following:
Easy-to-use online ordering forms, complete with order tracking functions
Efficient online reservation options
Secure and user-friendly payment methods
While these features seem to be the basics of what a good restaurant website should be, a lot of designers tend to overlook the one asset in order to favor the other. You will find numerous websites that only focus on the aesthetics of the page, but neglect to pay attention on the little copies that would actually bring the sales. Building a restaurant website is just like cooking – you need to find a balance of all the ingredients in order to serve something truly satisfying.
31 Websites That Hit the Spot
Looking for inspiration on how you want your new restaurant website made? Take a look at these beautiful restaurants:
Tao
Tao's home page instantly gives you a grand welcome tour to their establishment, while immediately providing you information about their branches and contact details on a static menu. Once you go to this top NYC restaurant's site, you will be reminded that Asian food can be a grand banquet experience.
Tio Luncin
This award-winning website features fun. Site visitors get an instant treat when they see raw ingredients fly towards the center of the screen. As they scroll, they get to see a video of a grand cookout, which ends with the restaurant's social media information. This website will make you feel that food is about good company.
Crudo
Crudo's design is crisp, clean, and compelling. It is one of the best examples of use of color in a website design, which will want you to eat something fresh. The website is also extremely lightweight, and its minimal design works perfectly when viewing on a mobile device.
Earls
Fast and convenient food is all about making every second count, and Earls Kitchen + Bar have made their website one of the most efficient that you can see online. Their site opens up with an introduction of how easy it is to order their food online, plus a quick access to their online ordering form. Right next to it are the menu items that they are promoting. This is easily one of the best restaurant websites that gives you what you want right off the bat.
Zadie's Oyster Room
If you open this restaurant's website on a desktop, you will get all the necessary information in a single look – you know where it is located and which number to call, and you know what their specialty is. Their copy becomes a focal point, and you are prompted to only click on the site menus if you want to go to another branch and if you want to know if there's anything else that could pique your interest.
Charcoal
There is a charm in websites that feel local – they are usually straightforward and gives you the ambience that you can expect on the area where they are located.
Noodlebox
Noodlebox's website shows its users that takeout food can be a fantasy. This is one of the best restaurant websites that reimagined the culture in food, and that also shows in the flexibility of their menu.
Moxhe
This website opens up with an infinite animation of the sea, which tells you immediately about their specialty. At the same time, this opening animation invites its users to take a dive into their beautiful scrolling page, which ultimately ends with a call to action to book a table.
Mugs
Mugs is a homey canteen that is ideal for brunches and dessert, and their choice of colors and animated images shows it. Check out their website and navigate through their fun menu!
Il Buco
Il Buco is hands-down one of the best restaurant websites – not only does its color pallet remind you of the sophistication and the intricacy of the Italian cuisine, it also makes you want to keep on navigating through their website. This website makes you feel that you are viewing a short documentary of how gourmet food is done, and you will inevitably be delivered to the end game, which is reserving a table.
El Catrin
El Catrin's website is like a good golfer – the only goal that it has in mind is to tell you that the restaurant takes its business seriously and that it is good at what it does. You are prompted to make a reservation and then you quickly would want to find out why the restaurant has several awards, making you want to check out all the pages in the site. Despite having less photos, this website shows that it already knows its market – if you check out the copy, you will get the idea that this place could get packed.
Sour Sally
Sour Sally is a giant in frozen yoghurt and is also a source of inspiration in making dessert web designs. Their website is clean and extremely easy to navigate for potential diners and franchisee, without neglecting the fun in its brand.
11 Coffee and Co.
What makes this website good is that it shows you how vibrant the neighborhood 11 Coffee and Co. is in. It opens up with a video that shows you how it's like to be in their café – you'll be quick to notice their counter and how everything they serve looks fresh.
Rosewater
Rosewater's website only needed one page to tell you what their business is about, how to find them, and what they are offering. Its simple design makes the website easy to navigate and still pack it with information.
Smokehouse Deli
Smokehouse Deli brings back the power of wit in content. You may be baffled by the lack of images in their website, but since it is a deli that is famous for doodles in its walls that serve as their overall décor, you will want to see what the restaurant really looks like by clicking on the Facebook button on the site. You will notice that they actually use the same type of design on all their marketing materials. Like it or not, this website breaks away from traditional design, without compromising identity and information.
Pho Café
Pho Café's website is enjoyable not only because of its quirky illustrations that go well with their photography but also because it is social. The use of colors in this website also gives it an edgy look while maintaining great detail. On top of the seamless design, the website is also provides information about pho and makes Vietnamese food seem like an adventure everyone should take.
Girl & the Goat
This website is a combination of serious and fun – the use of colors makes you feel that you are about to enter a high-end restaurant, but the copy is juxtaposing how the website looks like. If you visit the site for the first time, you will also see an animated landing page that will give you a feel of fun right before you see the neutral tone of the site. The combination of these elements provide you an insight of how it must be within the restaurant, which prompts you to pull up their beautiful menu.
Fud
If you believe that you have the tastiest food in town, flaunt it. That is exactly what Fud did in its website, with its slideshow of great-looking sandwiches. What makes this work is that it immediately makes the website viewer ask how much the food is and where they can find it.
Storstad
This award-winning website has a rather complex concept, which is to merge simple and traditional Scandinavian aesthetics with casual fine dining. This produces a stunning look, with emphasis on photography.
KFC
KFC's website is true to its branding – it is fast, represented by a really famous figure, and is very convenient. Every image is top-quality and all pages load extremely fast. You also get the experience of ordering from a brick-and-mortar KFC store, where you just point at everything that you want to eat and the person manning the cashier suggests something to go with your order. That strong call to action is designed to keep KFC stay rich.
Sugarfire Pie
Sugarfire Pie's website is takes you back to the past and makes their website look like a memorabilia. This effectively brings its site visitors to the notion of home cooking, which is what an American pie is about. Their regular and seasonal menus are striking, which makes ordering a delight.
Chang Thai Café
Chang Thai Café's website looks like it is out of an Instagram account that has a million followers. While the home page is peppered with photographs, the use of white space makes the site clean and fresh.
Andolini's Pizzeria
Andolini's Food Truck has its own website, and what makes it good is that you immediately want to follow where the truck is. If you want a precise location, you would want to follow it on social media by tapping on the social buttons at the top of the page.
Mah-de-Zahr
This website is simple, but it is everything that the restaurateur needs to tell people about what it sells. Right under the slideshow of large images are all the products that are for sale, and clicking on a product will also allow you to add it to cart right away. The straightforward e-commerce design allows everyone to do transactions without the clutter of too much design.
Chipotle
This clean website instantly takes you to the information that they are selling good food – not only that it's delicious, but it is also healthy and sustainable. The photographs on the website are high quality, and the menu is beautifully designed with the ample use of white space, which augments the freshness in the food images. However, ordering and finding details about the menu items is like ordering from the KFC site – everything is loading fast, and it is extremely convenient to use their app.
Marie Catrib's
This website is remarkable because of the way it loves its customers, which makes it one of the best restaurant websites. The design is intentionally crude, which will remind you how grandmothers who cook for their grandchildren would make a scrapbook of good memories at the dining table. Those who want a heartwarming place to eat will think that this is an online gem.
Dilly Diner
This local diner's website shows you that you are in for a treat – the photographs immediately tell you that you are going to get the bang for your buck. You immediately see that the restaurant is convenient for those who need a go-to place since they are offering late-night dining. If you live around the area and you have viewed their menu, you would also want to subscribe to their list and get their deals – that strong call to action at the bottom of their home page is simply irresistible.
Smokey Bones
What makes smokeybones.com one of the best restaurant websites? It knows how to make it difficult for everyone to resist the deals on their sites. The bold use of color and the large copy on the slide show on the home page makes you want to immediately get some of the mouth-watering items from their menu. From the looks of it, everybody who goes to Smokey Bones always have a good time.
Haeberlin
Most people who love gourmet food and have travelled all the big cities are familiar with the Haeberlin. However, those who don't will get the proper introduction with its website.
What makes it fancy is the food photographs, but the animations while scrolling give it another touch of sophistication. The images of the dining areas look like the restaurant is located in a dream. However, all those elements do not take away the efficiency of the website when you find your way to the menu.
Leaf
Leaf's website looks like it is more of a place where hipsters gather – however, for those who like this kind of space, this is the best deal that they can get. It caters to a select type of audience and appeals to those that would want to catch the events that are held there. What makes it work as a restaurant site is that the menu is very accessible from the main page, which serves as an attraction to those that haven't been to any of the Leaf shops.
Delicatessen
If there is a website that heavily invests on the desire of today's generation to be social, then that would be Delicatessen. This site shows you everything that you need to see to determine whether it is Instagram-worthy of not. Even if the website also appeals like a Pinterest board of the extremely cool, it also knows how to sell its food. Check out the menu and see that it is truly one of the neighborhood restaurants that sells comfort food.