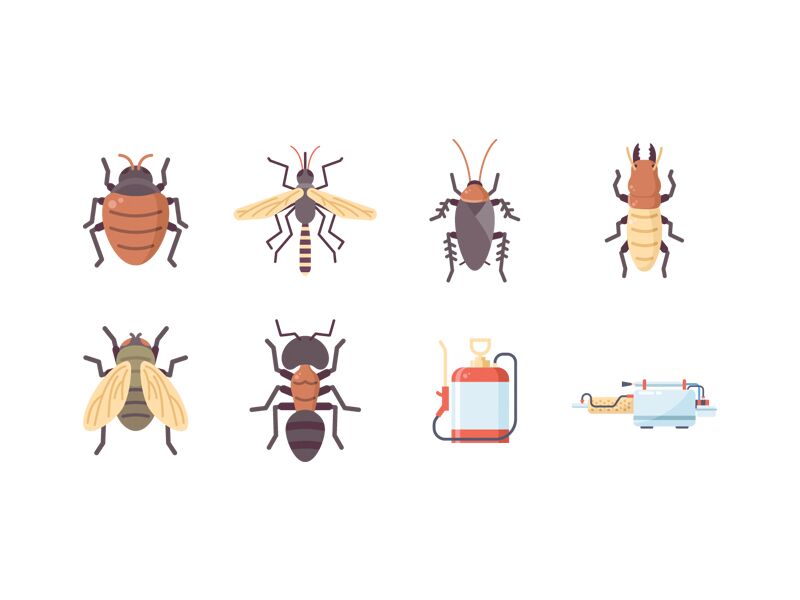 People surf the web in order to make informed decisions on the goods and services that they want to get, and that includes pest control. If you have a pest control company and you want to give your business a boost, having a website will do the trick.
However, pest control websites are not made equal – some of these websites offer more function and can make a customer trust a company in an instant, while others tend to drive their website visitors to quickly hit the Back button. If you are in the process of building a website, how can you make customers want to contact you and acquire your services?
Great Elements Found in the Best Pest Control Websites
What do effective pest control websites have in common? Here are the things that you need to have in your website:
Responsiveness and function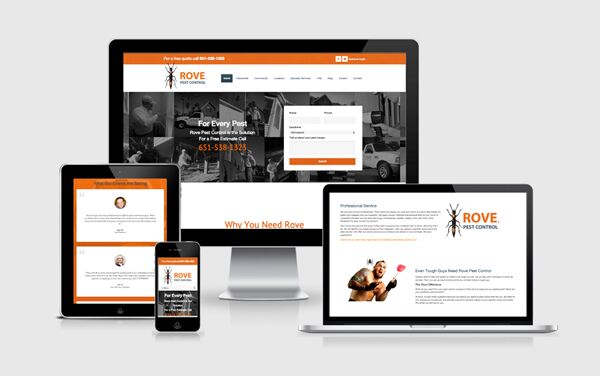 Most customers that are looking for pest control services are driven by a strong sense of urgency – after all, they are looking for ways to get rid of creatures that are preventing them from having a safe and peaceful home. When you think about what drives your customers to go online and find a company that could solve their problem, you know that they would need to have an easy access on the company's contact details, serviced areas, and the type of services that it is willing to offer. These details should be accessible to the website visitors no matter what their device is.
How do you make sure that your website is the solution for your customer's urgent need? You need to make sure that your website loads fast and will immediately display the most important details.
You will need to be able to tell your customer whether you will be able to provide service in their area within the same day. You also need to make sure that there is no design element in your website that will make your users have a hard time navigating through pages just to find the information that they need.
Consistency
Your website should be consistent with your branding: if your service van and uniform has a distinct look, those branding elements should also be in your website. Your pages should have a uniform look – you want to make sure that your customers know that they are still viewing content from the same company when they click on a button or link and they navigate to another page.
Informative and Engaging Content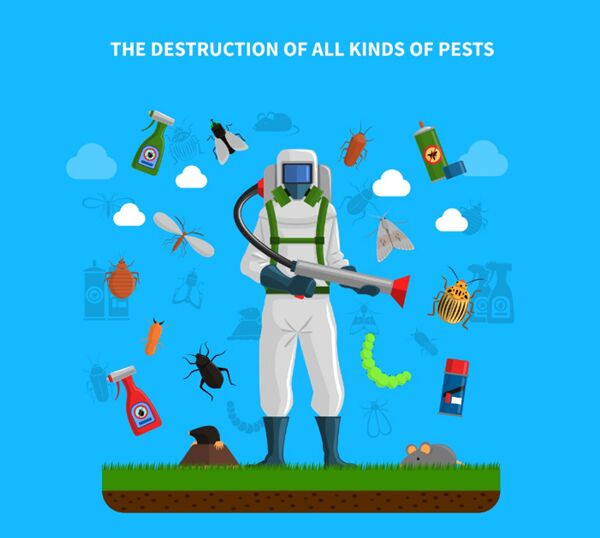 Expect that you are going to get customers that have a little idea on how pest control actually works and keep in mind that it is your job to make sure that they know how your business operates. Your content should also remind customers that there are a lot of considerations that they need to make whenever they avail pest control services and that you are available to answer all the questions that they have in mind. Having great content in your website will also tell your visitors that you are the expert that they seek, and that they do not need another company to solve their pest problem.
Reputability

Every homeowner has their safety in mind and there is no way that they are going to let strange people into their houses without proof that they are from a legitimate business. For this reason, good pest control websites make their potential customers see that they are an accredited company with licensed and insured personnel, along with the number of years of doing service. More importantly, these websites make it a point that their website visitors know that their previous clients love their service.
Strong Call to Action
Once that your website has a visitor, you have the perfect opportunity to convince your potential customer to get your services today. Notice the big landing pages that use action words on your competitor's site? Those remind the customer how badly they need to get rid of pests in their house, which increases their site's conversion rate.
16 Websites that will Inspire You
Take a look at these websites and see how their designs get positive results from their customers:
Triangle Pest Control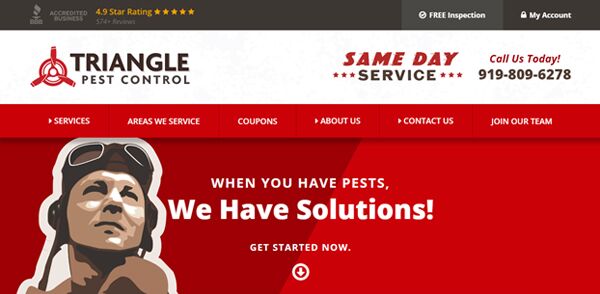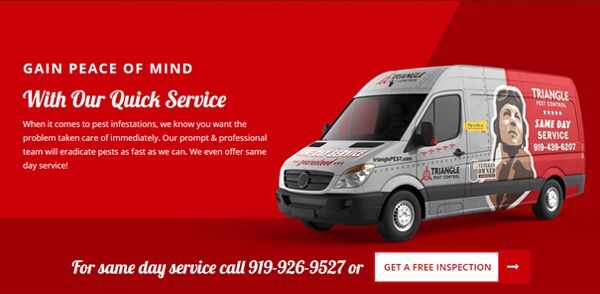 This website clearly communicates what the company is, complete with a great copy that they do same day service and free inspection. They also have a header that says they have almost 500 reviews and a 4.9-star rating, which tells you how much their previous clients trust their services.
Notice that this company also got rid of the "regional look" and stuck to a design that makes them appear reputable. The consistent use of red in their design also prompts the user to take action and also implies how passionate the company is in getting rid of pests.
Preventive Pest Control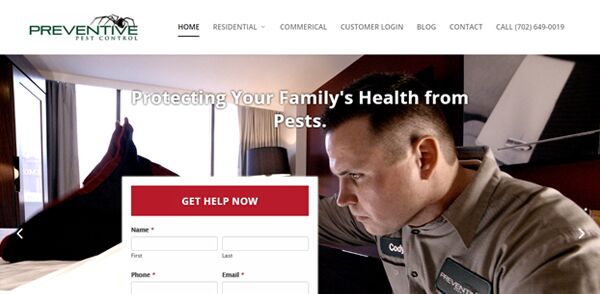 Preventive Pest Control does a fine job in making their potential customers want to call them right away, or leave a message with their complete details. The slide show of testimonials and the badge of guarantee also promotes the peace of mind every customer wants.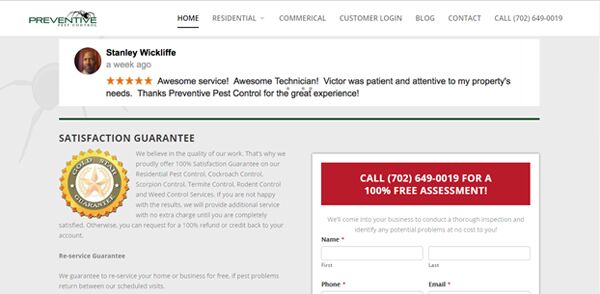 The company is confident that everybody loves them and that they will even offer refunds to those who don't – they offer a free re-servicing if pests return to their clients' homes before their next visit. That immediately tells you that this company is an extermination expert.
Rove Pest Control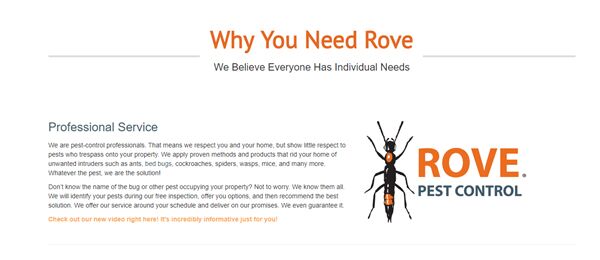 Rove Pest Control does a fine job in making a clean website that offers everything that a customer needs in a single page without the design getting cluttered. The chat box also works in making potential customers that they will find all the information that they need in this website.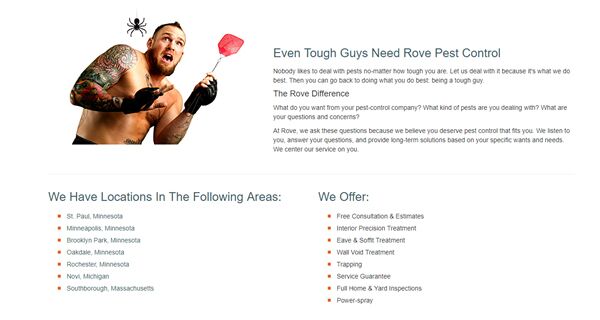 If you visit the site, you will also notice that the website opted to put photos of their previous clients along with their testimonials. This is an effective tactic in making people know that their reviews are from actual customers, which gives their website the leverage of authenticity.
Family Pest Control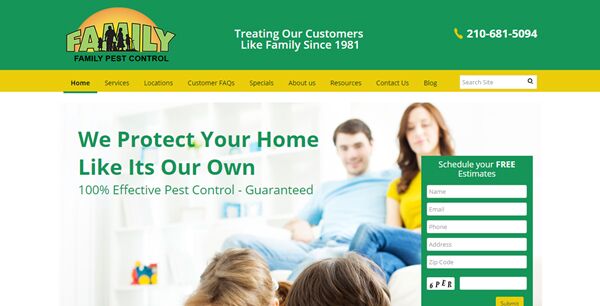 Family Pest Control's colors would probably remind you of the usual bug spray design. In fact, their entire design would probably remind you of how brands like Baygon and Raid. This makes their overall design effective – one look and you know that their services are designed to kill pests.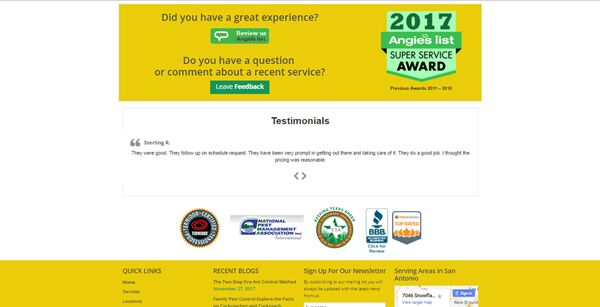 This website also made it a point that they are an accredited business that has won awards for their great service. They also integrated social buttons in their website, which is a huge plus.
Green Earth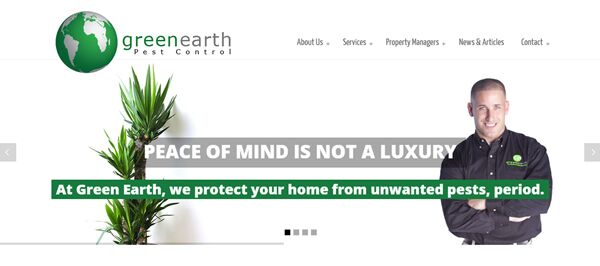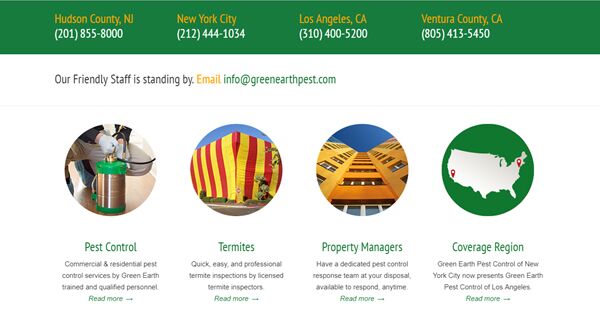 Green Earth mostly appeals to those that want an eco-friendly solution – while their website doesn't fully explain what their pest control methods are, the colors used in their site implies that they are using pet and human-friendly solutions. Their blogs are informative and invites website visitors to avail their services right away.
Orkin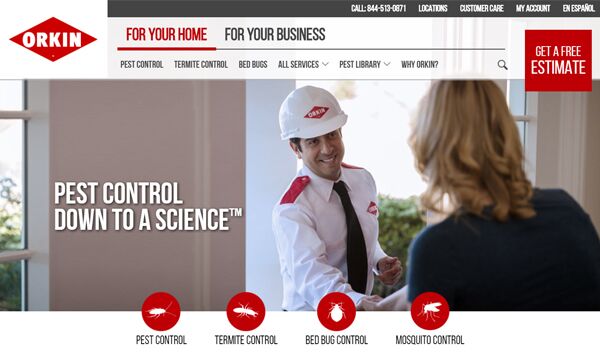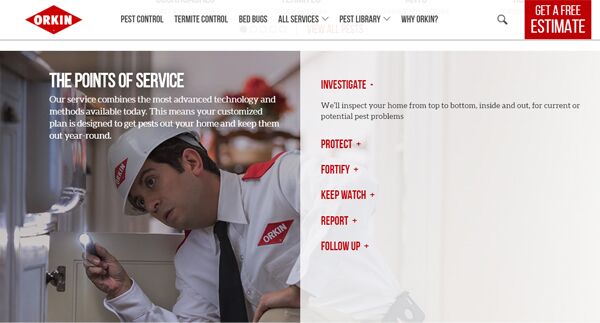 Orkin has been one of the biggest names in the pest control industry, and their website doesn't skimp on reminding their customers that they have been doing this gig for over a century. Orkin's website is complete with their portfolio, highlighting all the industries that they have worked with. Their website also makes use of lots of high-resolution photographs, but it doesn't slow down their website. On top of that, their layout is clean and very easy to navigate.
Terminix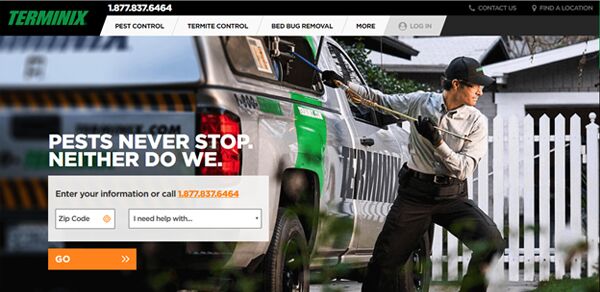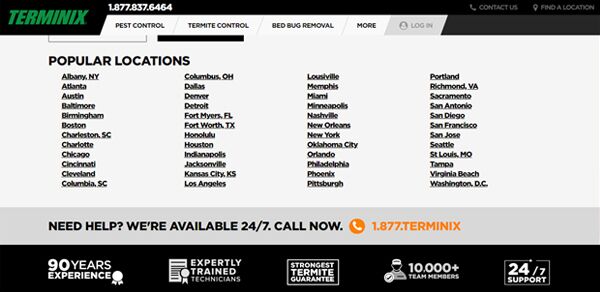 Terminix is another industry name, and their website's design proves that. It's extremely easy to navigate and easy to read, thanks to the clean layout and the large fonts. Every page on their website reminds you of their service guarantee, the savings that you will get when you avail their services, and the call to action reminding you to call them right away. This is one of the pet control websites that leave a strong impact.
Western Pest Services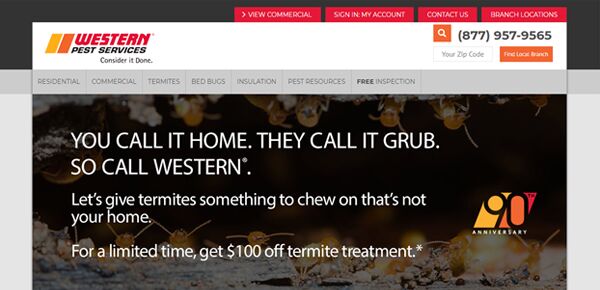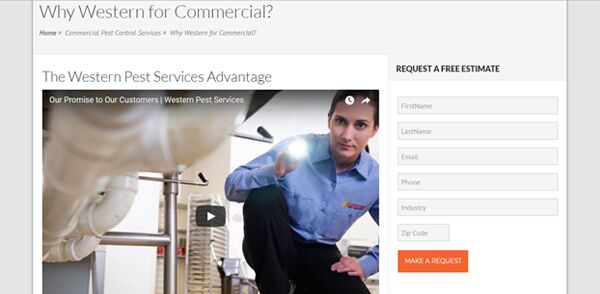 What makes this website effective is that it is big on creating a sense of urgency while informing their customers of their promo. Every page in the website invites the user to leave their information which in turn allows them to get to know their customers better before they even do the free inspection.
Ehrlich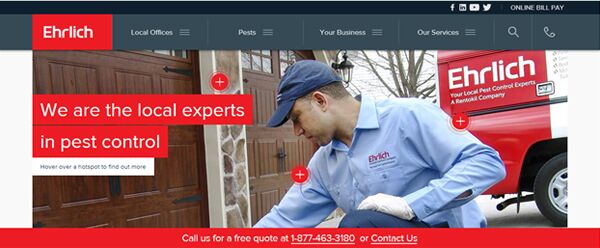 This website is not only rich in information that every possible client wants to get before acquiring a pest control service but also fun to navigate. Its home page is interactive, which entices the user to navigate through the entire website. The clean layout makes all details easy to find, but remains an eye candy thanks to its scrolling images.
Asian Pest Services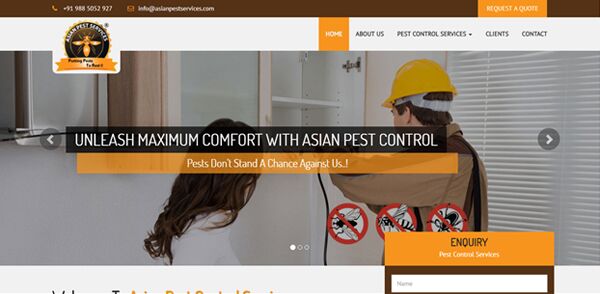 This website makes use of design elements that most pest control websites tend to neglect – most customers are so used to static pages but Asian Pest Services makes liberal use of vertical and horizontal scrolling which makes the copy more exciting to read.
Truly Nolen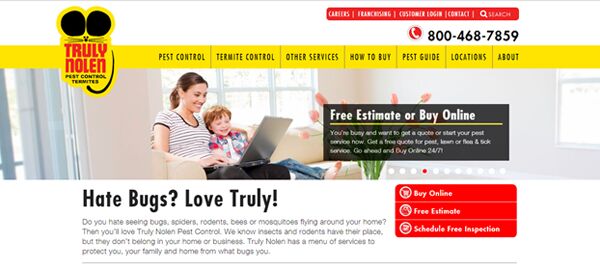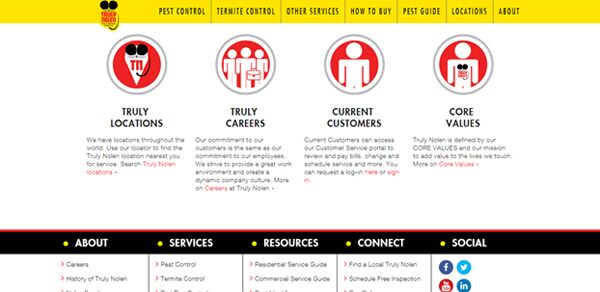 Truly Nolen's website is fun. The rat logo is ingenious and the vector graphics in the home page tell you how much they value customer service. Their website also tells you a lot about the Nolen family, which immediately identifies them as a brand that has been a part of households in Florida for several decades. This is a web design that tells you about a brand that targets their community and intends to be a part of every family in the region.
Lloyd Pest Control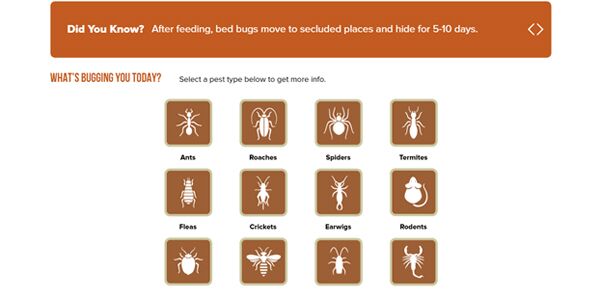 Who says all pest control products and services should look like they are serious about killing things? Lloyd Pest Control breaks the usual pattern in pest control websites by using rounded fonts, neutral colors, and fun facts. This doesn't mean though that their website makes them look less competent – in fact, the tone makes them more approachable to customers. It also helps that they put the information that they have their own institution that provides training for pest control.
American Pest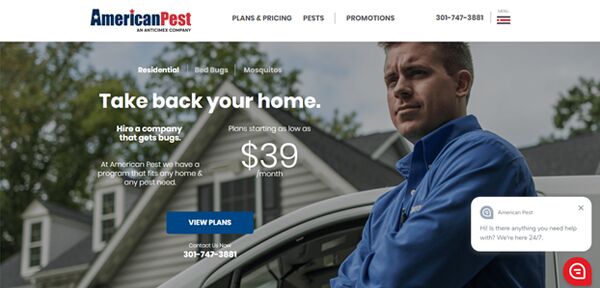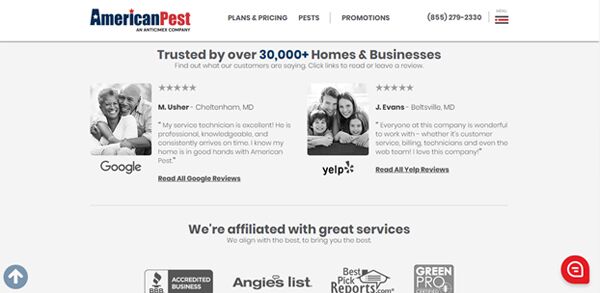 American Pest pays homage to patriotism and touches the heart of every American that can't enjoy the peace and quiet in their homes because of pests. The short splash page while loading the website helps in brand retention, and the use of blue in their website makes the brand appear to be professionals that all families should trust.
The Bug Master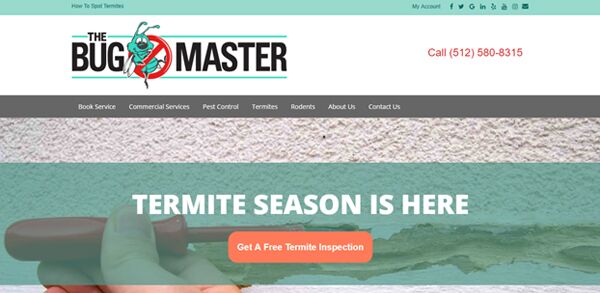 The Bug Master's website is one of the few pest control websites that have achieved both goals of being cute and being trustworthy, thanks to the great balance between their design and their content. They also did a great job of making a content that informs website visitors on when they should make it a point to call professional services and when pest issues are manageable.
One of the things that web visitors would love is the expanding logo every time they try to click on the menu. The animated statistics on their homepage doesn't only highlight their customer count, but also make you notice the text right beside it.
Cingo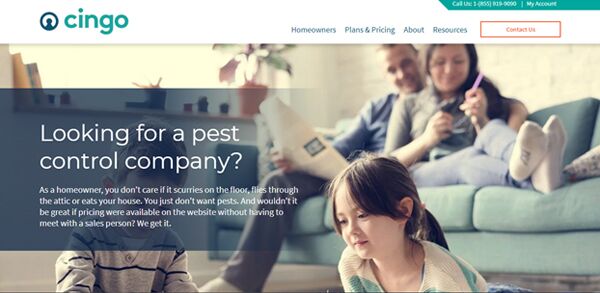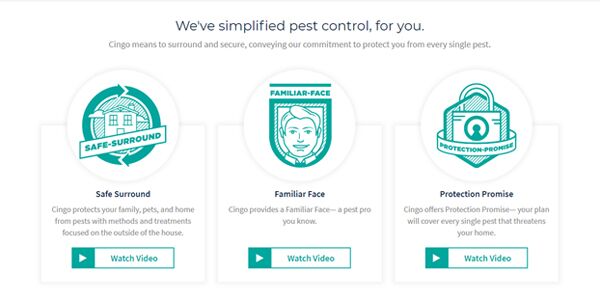 What makes Cingo's site work so well is that it is made for the ordinary person that have not used any pest control service before. Just as they promised, they have made this industry less scary – you may notice that they have used terms like Familiar Face and Safe Surround. They also offer plans on their website, which is something that you won't usually see in pest control sites. By offering a UX that is unusual in the field of pest control, Cingo appears like it has reinvented pest control.
Sprague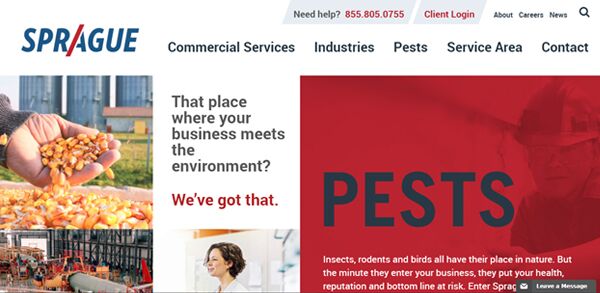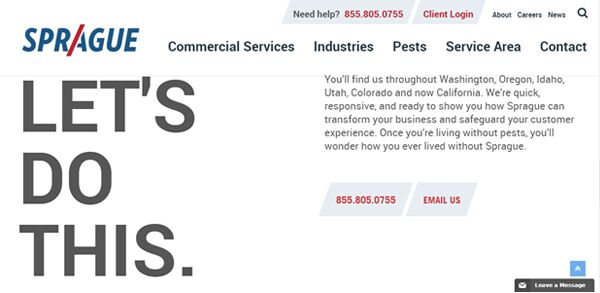 Sprague's website does everything large, and using large fonts surrounded by white space works in getting attention and making the brand's call to action clear. Their fun, brick-style vector images that turn into actual insect photographs also makes the rest of their content fun to read.